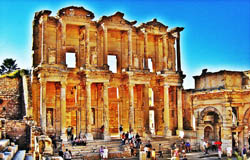 Ephesus (11th century B.C-3rd century A.D.), located near one of the seven wonders of the ancient world, is the best-preserved classical city of the Mediterranean. This impressive ruin offers visitors both history and religion as it boasts the Library of Celsus, the Roman Baths, the Gate of Hadrian, Roman Terrace Houses. To understand the lifestyle of Ephesus, and appreciate that it is similar to Pompeii visit Ephesus museum.This has view residential and funerary relics and the most beautiful Artemision statues.
The site also includes the theatre where St Paul preached to the Ephesians. Two of the pivotal councils (431A.D, 449 A.D.) deciding Christian doctrine were held at the Church of the Councils, in Ephesus. Moreover, it is believed that The Virgin Mary and St. John moved here after the crucifiction of Christ. During the reign of Justinian (6th century), the emperor had a magnificent domed basilica constructed in near by Selcuk. The tomb of St. John was placed here which elevated the site to one of the most sacred destinations in the Middle Ages. Today many pilgrims still visit the tomb of St John and the house of the Virgin on Ayasoluk Hill. The house of the Virgin was traced in the 19th century after a German nun, Catherine Emmerich, had a vision revealing its location.
8 kms from Selcuk is the pastoral village of Sirince, a hub of winemaking, with apple wine as a local speciality. Settled by Greeks until the population exchanges of 1924, the village surrounded by apple and grape orchards and olive groves is an idyllic lunching spot on hot summer's days.